If I Stay by Gayle Forman

Another book I blame on my sister. Should have known after reading Before I Fall to expect such, plus the description kind of gives the huge hint that it's not a happy book. Did it stop me from reading it at work despite having worn makeup that day... nope. (I don't recommend that, even if it's "waterproof" mascara.) But on to the review...

Book 9 in A to Z challenge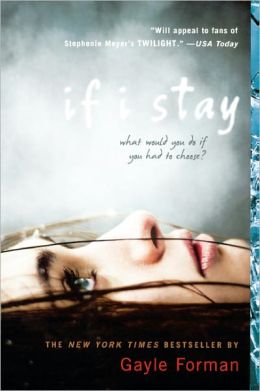 About the book:
Mia had everything: a loving family, a gorgeous, admiring boyfriend, and a bright future full of music and full of choices. In an instant, almost all of that is taken from her. Caught between life and death, between a happy past and an unknowable future, Mia spends one critical day contemplating the only decision she has left. It is the most important decision she'll ever make.
My review:
Wow.
That sums it up. It's amazing, heart wrenching and overall, a fantastic read. While I went in knowing about the sad factor, it does state caught between life in death in the description and the car crash is at the very first chapter of the book, I didn't quite know how drawn into the story I would be or what to expect in the writing overall. I was not disappointed.
I've wondered how to approach stories that deal often with flashbacks or require times in the past brought up to make up the story. This is kind of like that because we get to experience the love story and the different moments in her life in small bits, during her day as she tries to make the decision to stay or leave. While at times, the approach feels jumpy and hard to really latch onto the story, this book in particular shows how it can work very well.
While I'm not a big fan of contemporary or sad, I watch comedy tv shows and movies for a reason, I very much appreciated this book and have the sequel now on my to-read list. I recommend If I Stay to many readers, YA and beyond. It's a great read and shows a growing love that stands out despite the darkest of times.
And if you're curious about book 2 review, check out my sister's review of it that we posted on this blog back in August, 2011.
Where She Went book review
Reviewed by:
Dawn Embers