The People of Sparks

I read the first book a few years ago and posted a review here, The City of Ember review. I tried reading this book, the sequel, a couple of years ago but didn't get very far, then moving distracted me. After deciding to try it again, I managed to read the book in 1 day.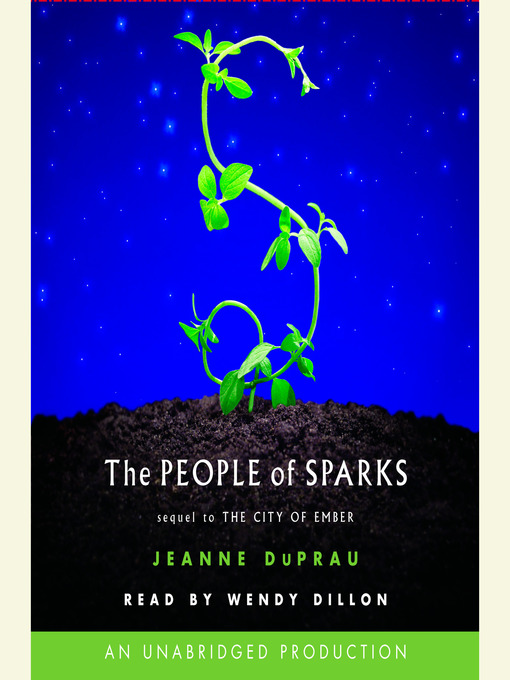 About the Book:
"it is green here and very big. Light comes from the sky...."

When Lina and Doon lead their people up from the underground city of Ember, they discover a surface world of color and life. The people of a small village called Sparks agree to help the Emberites, but the villagers have never had to share their world before. Soon differences between the two groups escalate, and it's up to Lina and Doon to find a way to avoid war!
Overall, I liked the story. It's not quite as good as the first book, in my opinion, but it was a decent tale. Lina is a fun character as always, finding a way to go off on an adventure. Doon is involved too and manages to get into to trouble at times but he wasn't quite as strong in this one compared to the first book. Then there is the boy from Sparks who we meet at the very beginning of the novel. He's just… Well, he's a brat is the basics of it. Did not like him and probably wasn't meant to either.
The basics of the plot is: after escaping the dying city underground, the people from Ember have to find a new place to live. They come upon a place that has struggled to survive called Sparks, who allow them some time to live near them even though they have limited resources but conflict soon arises between the groups.
It did have some interesting views on the escalation of conflicts that lead to war along with what it takes to stop such from happening. It had some good aspects and overall, not a bad story. Though it felt slow in spots, by the end things moved along and we got to see the main characters we got to know in book 1 come back together to help not only their people but those of Sparks.
I recommend it for people who have read and enjoyed the first book, City of Ember. This helps show what happens next, after they escape from their dying city and have to settle in a world post-disaster. An easy, entertaining middle grade novel.