This is one of the books I received after the Book Bloggers online conference and I was excited because I haven't actually read a mermaid book before even though I have a few on my "to read" list over at Goodreads. The copy I received was an advanced copy and the book was published May 10th. Since it was an advanced copy, some things in the published version might be different. I've noticed some mention online, for example, that one character's name is different. So, this is based from the uncorrected proof I received.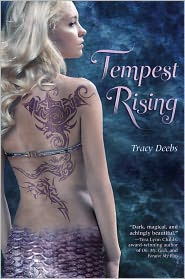 About the story from Goodreads:
Tempest Maguire wants nothing more than to surf the killer waves near her California home; continue her steady relationship with her boyfriend, Mark; and take care of her brothers and surfer dad. But Tempest is half mermaid, and as her seventeenth birthday approaches, she will have to decide whether to remain on land or give herself to the ocean like her mother. The pull of the water becomes as insistent as her attraction to Kai, a gorgeous surfer whose uncanny abilities hint at an otherworldly identity as well. And when Tempest does finally give in to the water's temptation and enters a fantastical underwater world, she finds that a larger destiny awaits her—and that the entire ocean's future hangs in the balance.
Overall:
A decent story. The beginning dragged a little for me because it felt too easy to put down. I started reading the ARC back in May but there were weeks where I didn't read in it at all. But over half way through the story it grabbed my attention and I became emotionally involved with the main character's tale. I'd been wanting to read a mermaid book for a while now and it definitely is a mermaid book.
Characters:
Tempest was a bit of a warm/cold character. In the beginning, I had a hard time relating to and caring about her, which isn't what one wants to have happen. The first part of the story we mostly see her get emotional, fight with her boyfriend and fret over the events that were supposed to happen at some point in the story. It isn't until she all of a sudden forgets everything and goes to the ocean for a different boy that things start to pick up. Speaking of boys, not surprised that there is the human boyfriend versus the mystery boy that wants the female main character. For the small number of books in YA that I've read so far, it has been a common situation. This one at least wasn't the human doing everything to help the main character, so I didn't feel as bad for him (Mark). I didn't warm up completely to Kai (or whatever his name is in the published version) but I did a little through the story. There were many other characters, of course, and at one point during the climax I was a little confused about who was who. But the focal was Tempest, then the boys and her mother, which she mostly thought about and we don't see much of for reasons shown in the story.
Plot:
The plot at he beginning felt a little slow. I almost wondered if the beginning could have been compressed and the action once she ended up in the ocean could have been expanded. That would have made the book a little more interesting for me, I think, and cut down a little on having the main character waiting around and complaining. Once we find out the direction the story takes, it gets really interesting and made me want to read. The end felt a little ambiguous. I don't know if there is a second book but it seemed like there was potential for one.
Granted that it wasn't the greatest novel, but for those that like the paranormal/fantasy romance-y young adult novels where female main character has her own issues to battle along with a love triangle, then this book is one to check out. If like me, that's not quite your thing, there are many other books in the sea...
Dawn's Verdict: 6.5/10