The Waiting Sky by Lara Zielin

Book 26 in A to Z challenge

Yay! We made it through the alphabet. To top the awesome month off, here is a random book I found at the library. I actually was going for a different author as I looked for potential books online before going to the local small library, but when I saw this one, it had my attention and I decided to read it instead.


About the Book:
One summer chasing tornadoes could finally change Jane's life for the better

Seventeen-year-old Jane McAllister can't quite admit her mother's alcoholism is spiraling dangerously out of control until she drives drunk, nearly killing them and Jane's best friend.

Jane has only one place to turn: her older brother Ethan, who left the problems at home years ago for college. A summer with him and his tornado-chasing buddies may just provide the time and space Jane needs to figure out her life and whether it still includes her mother. But she struggles with her anger at Ethan for leaving home and feels guilty--is she also abandoning her mom just when she needs Jane most? The carefree trip turned journey of self-discovery quickly becomes more than Jane bargained for, especially when the devilishly handsome Max steps into the picture.
My review: I didn't know what to expect from the book other than tornadoes and I was pleasantly surprised. In fact, I managed to read the book in just a couple of days, reading most of it on one of my days off. Okay, I partly hurried because it was due back the 24th and I also had to read Uglies by the 24th, but the book made it easy to accomplish.
After an incident caused by her mom's drinking, Jane gets the courage to take a summer away from home, to gain some distance though she's determined it will be short term because her mother needs her. She has spent years being the one keeping them going, working hard and doing whatever she can to help her mother out. So naturally, the way to get away is to go chase tornadoes. Well, it's more her older brother happens to chase tornadoes and she likes taking pictures so spends the summer working for his crew as their photographer. From there we get tornadoes, cute boy from rival chaser team and drama.
Yep, basically it's this: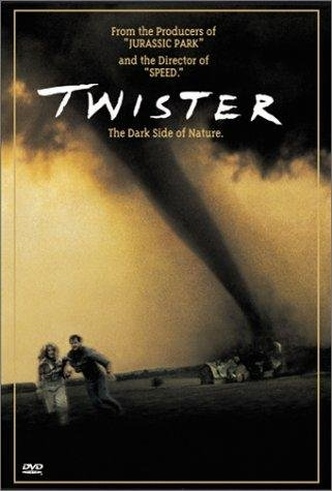 It's like the movie Twister, but a young adult book version. Instead of the issues with divorce, the engagement to other woman and love triangle we get brother/sister dynamics, mom's drinking issues, bet with other chase team, struggle in their chase team between brothers, and of course a romance with a guy from the other chase team. And even though the one guy in the book says he hates the movie, this is totally similar to Twister. I would image the author at least liked the movie (I liked it actually). The brother's chase team even has a device they are creating which will help detect information about tornadoes in attempt to create better warning systems and help save more lives. So, it's definitely like the movie except...
No cow.
Overall, it was a good book. Plus, it has a great cover and title. While I questioned a couple things within the book, like the device they were using dealing with pollution in the atmosphere around tornadoes, it didn't distract me from the main story, which was about Jane and trying to come to terms with her life. The romance was cute, though I guess I should expect some romance in most of these YA books, had some great moments but also had some drama. I recommend this for anyone wanting to check out a young adult book with storm chasing and dealing with contemporary issues such as family drama and alcoholism. It is a good read.
Reviewed by:
Dawn Embers